Witness to my Mom's Miracle!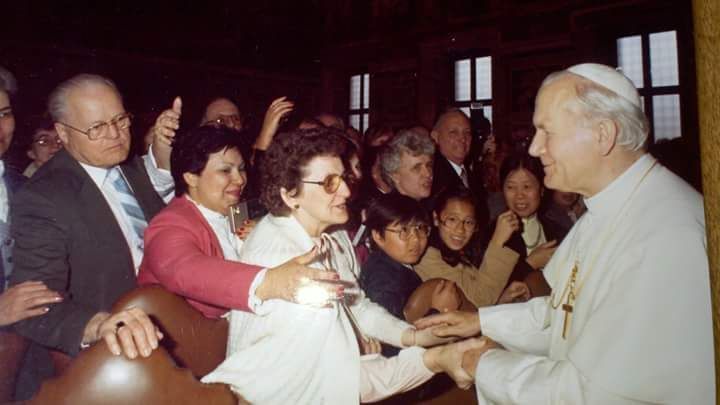 Many people have asked me why I was always in search of alternative approaches to healing and why I do what I do! This is my personal story about how witnessing my own Mother's miracle would ultimately change the course of my life.
Back in the mid 70's my Dad suffered a very serious heart attack. Unbeknownst to me, it would dramatically change the life of my entire family. I remember the call coming in that my father had suffered a serious heart attack, being told that he was on the danger list, and that they didn't know if he would survive. I was 10, my youngest brother 6. My other brothers were in their teens and twenties. Looking back, I think I lived in a state of shock and trauma hearing those words and always fearing him being taken from us, which inevitably happened 5 years later when I was 15.
When I say that life changed, you must remember that in the 70's, the survival rate for people with heart conditions was not the same as it is today! During those 5 years from his heart attack initial to his passing, he had several more heart attacks as well as a triple bypass which was very rare in those days. My Dad did have such a strong will to live, yet his life was so limited now. My Mom became his caregiver as well as wife. Her needs were definitely the last thing she was thinking of. With 5 children, she had her hands full! During that 5 year period, she had been diagnosed with Breast Cancer which had metastasized to her lymph nodes. She underwent a radical mastectomy which changed her life and how she saw herself as a woman. After my Dad's passing, the cancer had come back in her liver. Interesting fact that I later learned in my training was that anger and resentment are held in the liver.
She had so much anger about my Dad's passing. I remember her saying, "Why did God take such a good man?" Her grief went on for years. I personally witnessed that and in my teenage years, where I was personally suffering from his loss, couldn't offer any comfort to her. In those days, people grieved in silence, and didn't seek out counseling. It just wasn't the time.
When it had made it's reappearance in her liver, her doctor had suggested chemotherapy. She would get so sick with the chemotherapy that she had to be hospitalized each month for 3 days to control the vomiting. It was so hard to see her this sick, trying to stay alive. I remember my anger about what it was doing to her! Remember, the drugs were not available to combat the negative affects of cancer treatment as there are today. She lost all her hair. My words of "don't worry Mom, it'll grow back" I'm sure didn't give her any solace.
Do you have a memory of something, either good or bad that you know where you were, and that an image is engrained into you? For me, that's when my family was asked to go to the doctor's office to talk to him about her course of treatment. I remember seeing the CT Scan which showed the tumor was the size of a nerf football. Oh My God! There it was, for all of us to see. This feeling of heartache came over all of us. My Mom told the doctor that there was a family member that was going to be ordained a Deacon at the Vatican and that many family members would be in attendance. She told him that we would all have a private audience with the Pope (Pope John Paul II) and that she would have a healing. She was sure of it! My Mom had a boatload of faith! The doctor said that she was healthy enough to make the trip, and she did.
Well, we did in fact have that private audience with the Pope. I was standing next to her in the front row taking her picture as Pope John Paul II held her arm as she held his. You could see in the picture that they we engaged in conversation, she no doubt asking for a healing. Upon returning back to the states, a repeat CT Scan was performed. The doctor said, "Mal, you just witnessed your own healing!' She said I knew it, I felt that it was gone right away!
Fast forward 2 years later and it's back in the liver. Not, as large as the first time, but there. This time, she told the doctor that the same family member was going to be ordained a priest in the states and that she was going to have his first blessing, which in her eyes, was the most important blessing a priest could give. She did in fact make it to the ordination where she received his first blessing as a priest. Once again, by CT Scan, there was again a miracle!
Two years later, she passed away from this dreaded cancer. How could she receive 2 miracles, but couldn't keep the healing? I came to realize how much the emotional part had to do with it. Body, Mind and Spirit all work together. She had received the healing in her body, had an enormous amount of faith, but what was missing was the emotions that she was dealing with on her own which prevented her from maintaining that healing! She was angry and depressed. Let's not forget feeling overwhelmed with raising 2 young children who were still at home, and not always getting along with each other! The other 3 were older and pretty much on their own at that point. She also had the financial worries as well.
She did her best to keep it all working but inside, she was suffering greatly. Life was never the same for her after my Dad's passing. She had lost her husband, love of her life, and best friend. She wanted to live, but part of her missed him so much that I'm sure that part wanted to be with him.
This personal story is one that I share because at that time, I wasn't able to help. I was young and didn't have the knowledge or tools that I have now. I know that my Mom and Dad are always with me and are happy that I have chosen to do what I am doing now. I have their love and support and feel them with me, especially my Mom, as I continue to witness healings from God, the Creator of All That Is!
If I can make a difference in one person's life, then I know that I am living honorably and that I am making my parents proud!